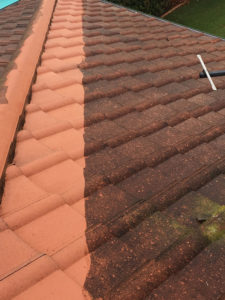 Roof Cleaning Brisbane northside. We clean all roof types including tin roof and tile roofs – also with or without solar panels. We treat all surfaces to kill fungus when cleaning tiles – concrete pavers with a rotary brush. This method is to prevent damaging the tile surfaces.
If requested, we will repair or replace exisistng roof tiles if required at a small extra cost. The customer must supply us with silicone or tiles.
Gutter cleaning We remove all rubbish and sludge from inside the gutters by gently water blasting the sludge out. Water blasyt down pipes to remove any blockages from inside down pipes. We can't remove rocks or roots from the underground pipes- stormwater. We put rubbish from inside gutters in gardens or around trees where ever it suits you. We do not remove rubbish from properties.
Quite often we combine this service with our gutter cleaning service. Keeping your roof clean and your gutters clean gives a face lift to your property. Ask us about our exclusive all in one package for your whole home.
High Pressure power cleaning is the best and most efficient cleaning method for roof cleaning.
Before and After Roof Cleaning Examples
See the difference here with years of build up of dirt and grime from the environment forming the darker layer on the right of the photo and the nice clean – as new – image of the tiles as we wash them clean on the left side of the photo.
Our team always have full safety gear when operating on the roof and we are fully insured for any unlikely incidences.
Call us today to discuss