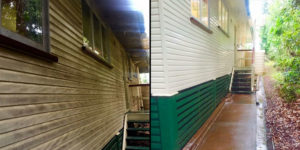 Let us look after your home with our soft brush House Washing in Windsor. Spencers House Washing is a family business. We use the hand washing method with soft nylon brushes to prevent scratching of painted surfaces. In addition, we wash from gutter or edge of roof to ground, wash and rinse windows, leaving your building/home very clean.
We wash and treat to kill mold and mildew and remove dust dirt on external of buildings.
The products we use are safe biodegradable and will not harm your animals or plants.
Why External House Cleaning Windsor
The painted surfaces on your home eventually get an acid build up combined with pollution mold and dry rot spore. These types of mold and dry rot are very bad for your health. As mold grows mainly under your eves and also gets on your fly screens, solar panels, concrete, paths etc. So when you open your windows to let some fresh air in, these fine mold spores get into your house as well.
The mold causes all sorts of problems such as growing on internal ceilings, bath rooms, bed rooms, on curtains etc. Mold is bad for your heath and also your love ones, so the best way to stop it from getting inside is wash and treat killing it on the out side then inside.
Here at Spencer's House washing in Windsor, we only use a safe biodegradable product which does a great job killing it.
Another type of growth is a fungus called dry rot spore. This starts out green-white or brown is very aggressive to your paint and more so to your timber work and very bad for health. Therefore, it is best to treat this as soon as possible before it to spreads into the home.
Spencers All Round House Cleaning Services Windsor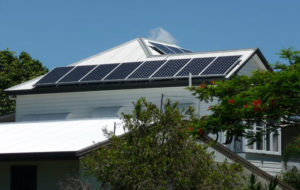 When it comes to all your external house cleaning services in Bridgemen Downs, please look at our other services too. For example: your concrete and pavements cleaning with our pavement and concrete cleaning service.
Plus our roof cleaning service is often ordered at the same time as our house washing Windsor service. Ask us about a package price!
Are your solar panels still collecting the same amount of sunlight and converting it to electric power as the day they were installed? – Check out out Solar Panel cleaning service for more information.
Leaves clogging up your gutter prevents water from flowing through, encouraging rust and more problems. We provide Gutter Cleaning and Clearing service here
Brisbane, Queensland
Wash your House in Windsor Before Painting
When preparing to paint your house, the first thing to do is clean the surfaces after sanding down. After sanding down you then wash and treat to kill any mold spore and remove any dust etc with a none residual product, so that primers and or paint sticks to the surfaces.
This should be done whether it is a new surface or a repaint. Then you prime any bare spots.
Priming is very important as you have to remember that paint is designed to stick to primers. Primers are design to stick to all surfaces. Painting on to un-primed surfaces will go against what the paint was design to do and will not last as long.
Once you have a newly painted surface, to keep the paint work in good condition you should wash it every twelve months or no longer than two years.
If your home is located on busy road, I have found that paint left longer than twelve months does actually deteriorate much quicker, so the paint does not last as long and it stains.
Due to the neglect of your home the next paint job will cost you a fair bit more because its been neglected. This is why it is important to get your home externally cleaned every 12 months
High Pressure Washing on House Washing Warning
Pressure washing uses water at a high velocity to get off dirt, dust and other items from houses. Because the water used is powerful it can be easy to ruin surfaces. We do not use and I would certainly never recommend the use of high pressure hoses as a house washing method.
Our house hand washing using soft brushes is the best method for washing your house while caring for your home. Any questions please ring us any time day or night.
Be aware of companies advertising low pressure house washing as the quality by our standards is sub standard.
Treat your house with care and allow Spencer's External house washing Windsor with our Hand soft nylon brush washing, not high pressure hoses.
Call today:
Brisbane