Concrete cleaning and pavement cleaning in all Brisbane areas are also key important services provided by Spencer's External House Washing.
All Types Concrete Cleaning and Pavement Cleaning
We treat surfaces to kill fungus when cleaning tiles – concrete pavers with a rotary brush. This method is to prevent damaging the tile surfaces.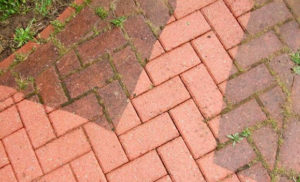 Cleaning your concrete, driveway or pavements are part of your property maintenance. This can be a long and laborious job, however, Spencer's can help out with our professional industrial size concrete cleaners, we can get through the job in a quarter of the time you would take.
So save yourself the back breaking agony and call Spenser's today for conrete cleaning Brisbane: 0411 444 546